References to Shep Husted in various books.
Rocky Mountain Wildflowers: Photos, Descriptions, and Early Explorer Insights
By Jerry Pavia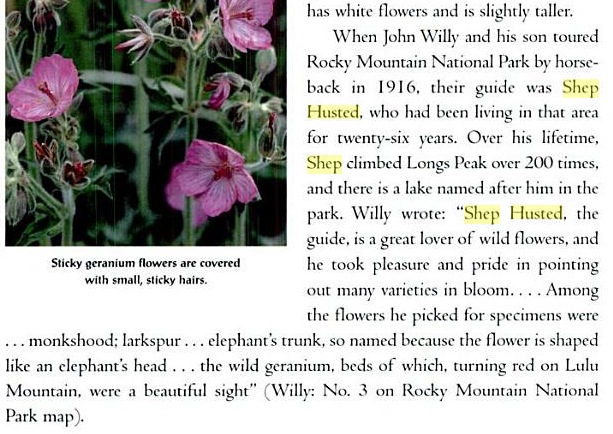 General information regarding Rocky Mountain National Park ...
By United States. National Park Service, United States. Dept. of the Interior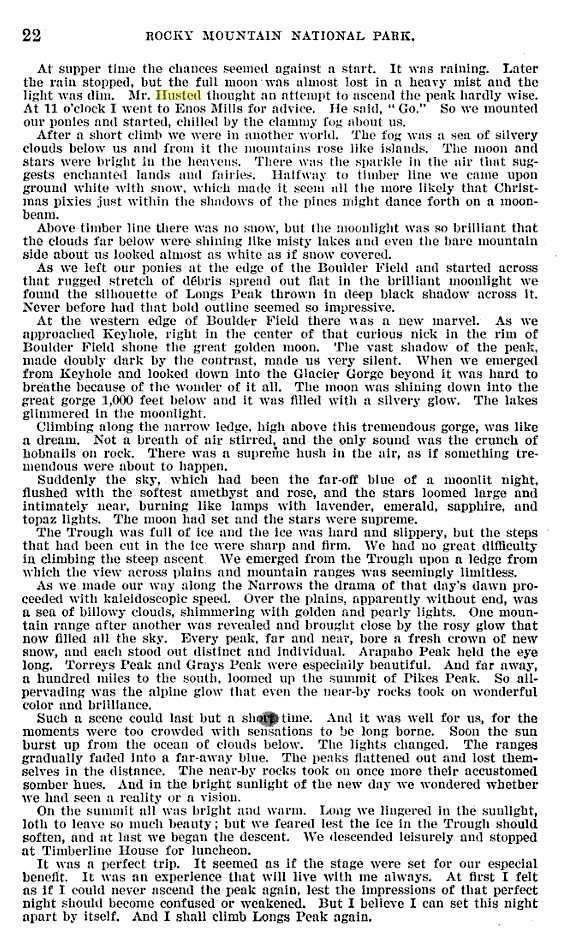 The story of Estes Park and a guide book
By Enos Abijah Mills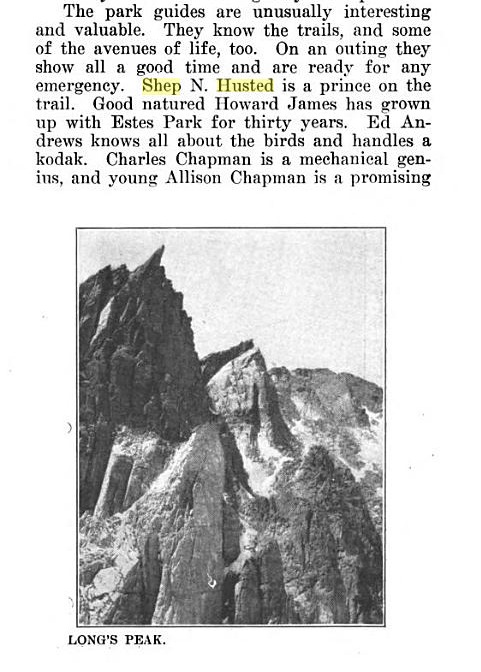 Forest & garden: traces of wildness in a modernizing land, 1897-1949
By Melanie Louise Simo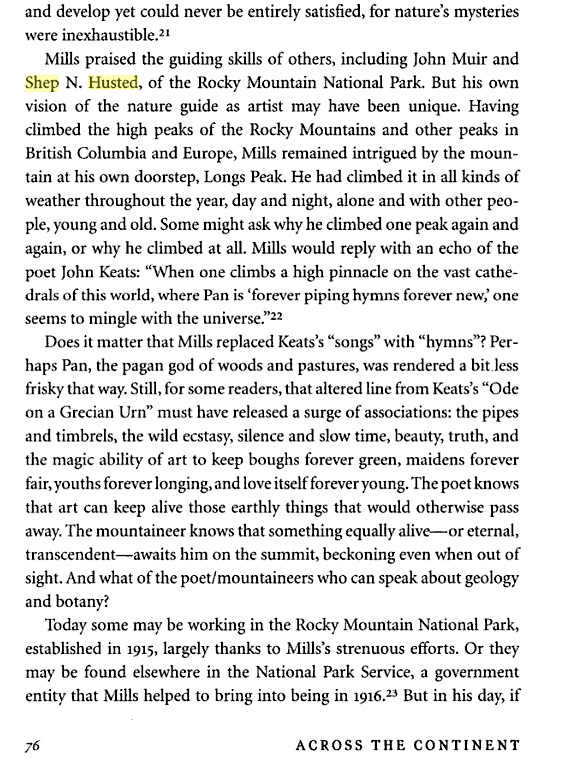 From
Mountaineering in the Rocky Mountain National Park
,
Compiled by Roger W. Toll, Edited By Robert Sterling Yard, United States. National Park Service (1919)



There are two more references to Shep Husted in this
compilation
.

Rocky Mountain National Park:
a history, C. W. Buchholtz




Trail and timberline
, Issues 553-588 Colorado Mountain Club

This Blue Hollow:
Estes Park, The Early Years, 1859-1915 James H. Pickering

Colorado profiles: men and woman who shaped the centennial state - Page 191, John H. Monnett, Michael McCarthy

A peculiar treasure - Edna Ferber

Reports of the Department of the Interior, Volume 1
By United States. Dept. of the Interior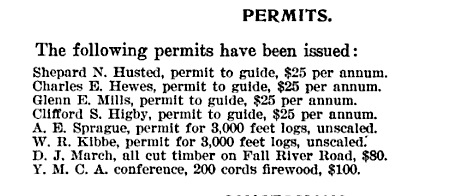 Congressional serial set, Issue 4986
By United States. Government Printing Office

Recollections of a Rocky Mountain ranger - Jack Clifford Moomaw


Longs Peak:
its story and a climbing guide - Paul William Nesbit


America's Switzerland:
Estes Park and Rocky Mountain National Park, the growth years

James H. Pickering



Pamphlets on forestry. History
, Volume 1 (http://www.biodiversitylibrary.org/title/18051#21)


From the JOURNAL OF CHARLES EDWIN HEWES 1870-1947
Transcribed by James Pickering

Hewes lived in Estes Park from 1912 until 1933.

Dec. 3, 1932 Last night we had a visit from Shepherd Husted, our old friend, and the premier guide of this region. Among other things, he told us that coming down from Wyoming in 1887, he wandered into the Park, and has been here more or less since that time. He says this was the year Enos Mills came into the Park, staying with his relatives, the Lambs; and that he was really a pale, sickly youth, looking for his health.


From the 1
st
(1946) edition of Paul Nesbit's book on Longs Peak,
page 13:
In 1906, Mills (Enos) in need of help, selected Shep Husted, W. A. Gray, and Alva Jones as guides.
Shep guided until the middle thirties. He conducted many famous
personages and typified everyone's idea of the old-time, veteran guide.
From the 1
st
(1946) edition of Paul Nesbit's book on Longs Peak, p
age 30:
If the guide believes that some person should turn back and that person wants to go on, then the guide may talk to that person individually. He may then let them proceed with the clear understanding that it is against his recommendation, or he may, when he thinks it necessary, compel them to turn back. The first death on the
Peak resulted when a woman insisted on going on against the better judgment of her guide. However, the times when compulsion is resorted to should be rare. The writer (Paul Nesbit) once asked Shep Husted how he handled such cases and Shep replied about as follows. "Oh, I just talk them out
of it. I ask them how they are feeling and suggest that they look a little white around the gills. I ask them what they had for breakfast, and shake my head, and after a time, they at least imagine that they are sick and drop out."

From the 9
th
edition (1990) of Paul Nesbit's book on Longs Peak, page 64:
1907 Shep reported 50 ascents (of Longs Peak), 27 in Aug. alone.