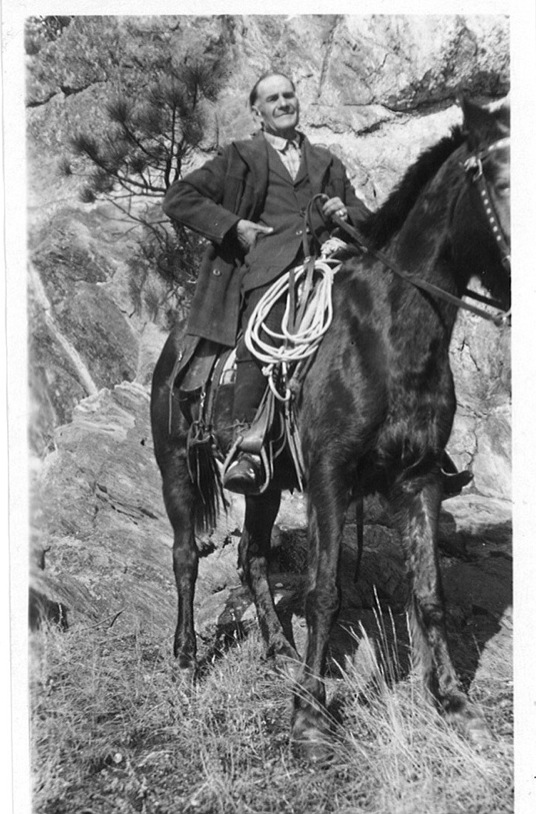 Shep on horseback, 1927-8
Photo courtesy of the Estes Park Museum.



Shepherd (Shep) Newcomb Husted was born on Christmas day in 1867 near Husted Station, Clark Co., Ohio. Husted Station was a stop on the Little Miami Railroad Line near where the current Little Miami Scenic Trail crosses Hustead Road. The area is now called Hustead, Ohio. His father, a medical doctor, moved his family from their home near Yellow Springs, Ohio, to Woodington, Darke County, Ohio in 1876. Shep was a boy of nine years at the time. He had five brothers older than himself, and eventually would have ten sibling. His father, James Ladley Husted was born in 1839 and died in 1912. His mother, Catherine (Kate) May was born in 1841 and died in 1927.

His father, and one of his older brothers, Eugene, who became a medical doctor as well, practiced in Darke County their entire lives. Of the many local people that Dr. Husted cared for was Lowell Thomas, the noted radio commentator and explorer. Lowell was born in a room of the Thomas home in Woodington, delivered by Dr. James Husted. Shep's brother, Dr. Eugene George Husted, took over the practice of his father James and he too had a well known client, namely, Annie Oakley, the famous sharp shooter of the west.

At the age of twenty, in 1887, Shep took leave of Woodington and headed west on horseback via the state of Wyoming. One of his intentions was to visit his aunt, Margaret May Cleave who had married John T. Cleave, a carpenter from Cornwall, England who had settled in Estes Park, Colorado in 1875. John Cleave was a respected builder and his name is associated with the history of Estes Park. John had title to 185 acres of land at the junction of the Big Thompson and Fall Rivers. His land was purchased in 1905 by a group of investors and the present town of Estes Park was laid out on the property. Apparently, when Shep arrived in Estes Park, he was taken by the place and decided to stay. Shep learned carpentry from his uncle and eventually used those skills to build a homestead and eventually an hotel near Estes Park. See a
history
of Estes Park, as recorded in 1923.

Shep was a very quiet person, very taciturn and very self-sufficient. He lived in the Devil's Gulch area until 1941, when he moved to Saint Louis to live with his son Kenneth. He died there in 1942 and was cremated, his ashes buried in the Oak Grove Cemetery, Saint Louis, MO. The names of his wife Clara and son Kenneth are on the stone containing his ashes.

Following is some information on Shep's ancestors and relative. The information came for Gene Husted, gh455@yahoo.com and is slightly edited for this site.

There was a story of three Husted brothers, *James*, *David* and *George*, who settled in Patterson, New Jersey. All three brothers and their descendents later moved to different areas of this country.
James Husted went to the Kansas City, Missouri area and his son James D. Husted settled in Colorado and had the Husted Land and Cattle Company. Husted, Colorado was the Post Office there, named for James D. Husted
David Husted stayed in the east and had five sons; Harrison, Calvin Richmond, Hosea, William and Charles Woodruff Husted. Some descendents of David Husted lived in Madison, Wisconsin. Charles W. Husted lived in Philadelphia, Pennsylvania and had two sons; Edward and Paul Stanger Husted. Paul Husted had a daughter Gladys G. Husted who never married and in 1958 was living with her mother in Williamstown, New Jersey. Calvin Husted went to Colorado having two sons and three daughters; Herbert, Walter, Frances, Grace and a daughter who died young.
The third brother, George Husted came to live in Ohio at what is now the villiage of Hustead, located between Springfield and Yellow Springs on what is now Rt. 68, in Clark County, Ohio. George apparently gave one of his buildings to the government to use, known as the Hustead Post Office with the villiage of Hustead growing around it. There is a cemetery here named the Ebenezer - Husted Cemetery which is the resting place for the family of Joseph Newcomb Husted. This cemetery is located near Collier Road. George Husted was married to Matilda Collier. Their children were; Anne, James Ladley, Benjamin and David Husted, all born in Hustead, Ohio. James Ladley Husted and his wife Sarah May had nine children. One son, Shepard Newcomb Husted, was a famous guide for Estes Park in Colorado. Another relative was Stanley N. Husted, a well known attorney and prosecutor in Clark County, Ohio. At one point in time maybe 40 years ago, I can remember questioning my father why Stanley Husted's attorney sign was spelled Hustead instead of Husted, but my father did not know. I can only guess that maybe some of these early families went by Hustead. Those buried in the Ebenezer-Husted Cemetery have headstones clearly marked Husted. Those buried with Joseph Newcomb Husted and his wife Hannah Jenkins are; David Jenkins, Phebe Husted, Ruth Husted, Newcomb Husted, George Husted, Mary Ann Husted, Mary Jane Husted. The headstones of Joseph, Hannah, David, Phebe, Ruth and Newcomb are the same style, while the stones for George, Mary Ann and Mary Jane are of a different style, and from the dates, Mary Jane is the daughter of George and Mary Ann Husted.

The following comments are also by Gene Husted.

Some of the names above seem to exactly match those of families who were living in New Jersey, all descended from the ancestor Robert Husted. In particular, Joseph Newcomb Husted who was a son of Moses Husted and his wife Content Newcomb.
Joseph Newcomb Husted and wife Hanna Jenkins are listed with eleven children ; *David*, *James*, Newcomb, *George*, Phebe, Ann W., Matilda, Jeremiah, Content, Ruth and Rachel Husted.